Overall Rating
5
rating out of 5
(331 reviews)
97.3% of customers recommend this property
Your Review
Submit a Review

Resident Reviews
submitted by Clayton A. -
|

Recommended: No
submitted by Jessica O. - |Recommended: YesWe LOVE everything about Mesa Falls. — We like that everything is clean and new. We love that the management is on top of everything and is always available to answer questions. The maintenance is always taken care of same day or next day. The club house is awesome too.
submitted by Mark S. - |Recommended: YesGreat, Amazing Clubhouse, Friendly Staff — Living in other apartments in Rexburg. This one is by far the best
submitted by Amy E. - |Recommended: YesBeautiful, clean environment — I noticed that we haven t really met any neighbors, it might just be my building but it doesn t seem very neighborly in that sense. I do love living here!
submitted by Alan E. - |Recommended: YesGreat and convienent — Nice. Walls are thinner than other apartment buildings but everything that is offered is nice.
submitted by Lauren J. - |Recommended: YesAwesome sauce — It s high class Rexburg.
submitted by David O. - |Recommended: YesNice, clean — the gym is the best feature for me
submitted by Dallas H. - |Recommended: YesGreat, quality apartments — Great apartments. The staff is very friendly and reliable. The apartments themselves are gorgeous and built very well.
submitted by Anne M. - |Recommended: YesIt has been a pretty good place to live in general. — It has been good. I haven t been impressed with maintenance or the cable.
submitted by Jordan J. - |Recommended: YesIt is a great place to live! — I like the layouts of the apartments.
submitted by Becky L. - |Recommended: YesNice and new — quite different from living in the country from where I was at. The kids yelling from balcony to balcony at each other isn t cool. The sound insulation isn t there. Watching the buildings going up confirms it. Must be a cost savings. I hope the heat insulation is better. Rain dropping off the front of the car ports onto your vehicle constantly isn t really great for our car finishes. Car ports should of been a little longer. You can hear shutting of cabinet drawers in the kitchen from my neighbor, I can hear the washer spinning from the apartment below, and lots of noise from below people, even thou I m on the third floor. Very surprising to me. Overall, I like it but some sound barrier improvements would be great. It does quiet down nicely at nights and I m starting to use the exercise room and it is really nice. The game room could use some fans for air movement too. It is fun to play. I like being able to bring friends over too.
submitted by Andrew H. - |Recommended: YesIts new, nice, and feels like home — Its awesome
submitted by Lisa J. - |Recommended: YesTotally in love with this place! — Maintenance gets done the day of request. We love the amenities included, free internet and an in-house washer and dryer. The clubhouse is a great opportunity to spend quality time with friends, meet new friends, and get to know the neighbors. Love the storage space in the apartment and there s so much room for friends to come over. I can t hear my neighbors even though it is an apartment, apartments have a homey feel. My husband and I love using the Jacuzzi after a long day at work.
submitted by Janeen R. - |Recommended: YesWe love it here, it's worth every penny! — It's a very family friendly community, we feel like we're friends with almost everyone who lives here!
submitted by Jeffry W. - |Recommended: YesNice apartments! — I have enjoyed the apartment, the rent is high.
The views and opinions expressed herein are solely those of the original authors and other contributors. These views do not reflect the views of "Mesa Falls Apartments", its owners, managers, agents, employees or content providers. No representation or warranty, express or implied, is made or given by "Mesa Falls Apartments", its owners, managers, agents, employees or content providers regarding safety, accuracy, completeness or suitability of the information or material expressed herein for any particular purpose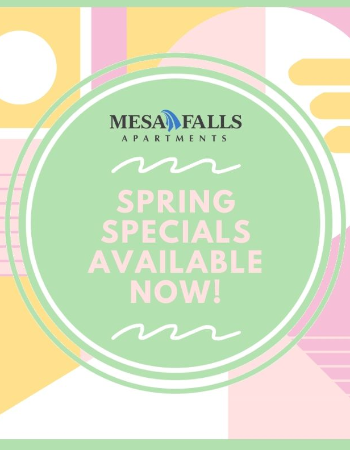 Click to Check Out Our Spring Specials!