Overall Rating
5
rating out of 5
(331 reviews)
97.3% of customers recommend this property
Your Review
Submit a Review

Resident Reviews
submitted by Trever S. -
|

Recommended: Yes
submitted by Erika S. - |Recommended: YesVery Comfy, clean and friendly this is the best place for living in Rexburg — I like live here because it's a place very secure and This have a very nice place for the dogs the club house is amazing place for winter time, all what we need is here
submitted by Stephen C. - |Recommended: YesNice Place to Stay — The apartment was comfortable and clean. The staff was very helpful and friendly. We had only a few problems that were handled quickly and professionally. Parking can be a bit tough around the clubhouse area. The WiFi inside the apartment unit needs some TLC. Newer buildings have faster internet. We would come back if we needed to.
submitted by Janae S. - |Recommended: YesVery clean and friendly management — It's a great place to live, but it's a little pricey
submitted by Katee J. - |Recommended: YesThe property is great and very well kept. — I would tell them that it has been great The management is amazing. The maintenance staff always comes when they can and it is usually the day of. They are very nice and easy to work with. The clubhouse is a plus and it is very fun to have that luxury.
submitted by Amanda D. - |Recommended: YesBest place in Rexburg — We have lived at Mesa Falls for about 4 months now and we have loved every minute of it. The apartments are not only new, they are kept up with. In our first month we had a pipe under our sink spring a leak and we called maintenance. They were in our kitchen fixing the leak within 8 hours. The maintenance person was very nice and very professional. We love the place and plan to stay until we graduate.
submitted by Chelsey N. - |Recommended: YesIt's been okay — Just make sure that you verify EVERYTHING with a manager. Other than that, it's a great place to live.
submitted by Zach O. - |Recommended: YesLoved it. A great place to live. — I loved living here and everything was wonderful. However the only downside to living here has been the Internet. It is extremely slow and has been changing so much lately it has been a real pain to deal with. The Internet disconnects frequently and undergoes maintenance all the time and it has been annoying to deal with. Other than that, we loved the apartment and the complex and all the perks it comes with and would recommend this place to all of our friends.
submitted by Nichole C. - |Recommended: YesLove It — The staff is amazing... The apartments are amazing. I have had a couple problems and they have all been squared away fast and efficient
submitted by Clayton T. - |Recommended: YesIt is a very nice place and has great amenities. — this is a good place to live.
submitted by Benjamin Z. - |Recommended: NoGreat place to live — Quiet but very nice community. The apartments are nice and have easy access to the school and freeway. Staff are friendly and helpful. The amenities are very nice and well kept. Overall I love living here and would recommend it to anyone.
submitted by Austin F. - |Recommended: YesFavorite Apartments in Rexburg — Me and 3 others live in the 2 bed 2 bath luxury. It's awesome and we all love it. Appliances and lighting are efficient and our energy and gas bills are super low. These apartments are only a couple years old so everything is brand new. Our apartment hadn't even been lived in yet when we moved in a couple months back. The staff are friendly and helpful. Maintenance workers are nice and do nice quick work. Only 2 negatives I can think of are that the internet is not super fast It's not super slow though, and they did just upgrade it . Netflix and Xbox Live work well most of the time. 2nd, you can hear your up downstairs neighbors a bit too well. Sometimes it feels like you have to tread lightly and whisper after 10pm just so you don't get the cops called on you.
submitted by Alex O. - |Recommended: YesReview — Its great. Love everything but wish I had a better job.
submitted by Tierra F. - |Recommended: YesThe nicest apartments to live in in Rexburg. — It feels like home. Although it is an apartment complex, once you step inside your door it doesnt feel like that anymore. I love it.
submitted by Daniel B. - |Recommended: YesGood — I would recommend Mesa Falls to them
The views and opinions expressed herein are solely those of the original authors and other contributors. These views do not reflect the views of "Mesa Falls Apartments", its owners, managers, agents, employees or content providers. No representation or warranty, express or implied, is made or given by "Mesa Falls Apartments", its owners, managers, agents, employees or content providers regarding safety, accuracy, completeness or suitability of the information or material expressed herein for any particular purpose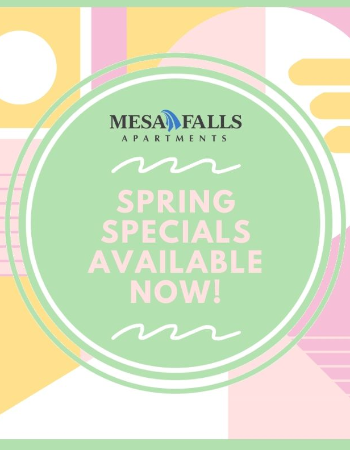 Click to Check Out Our Spring Specials!